Daglighallen Pub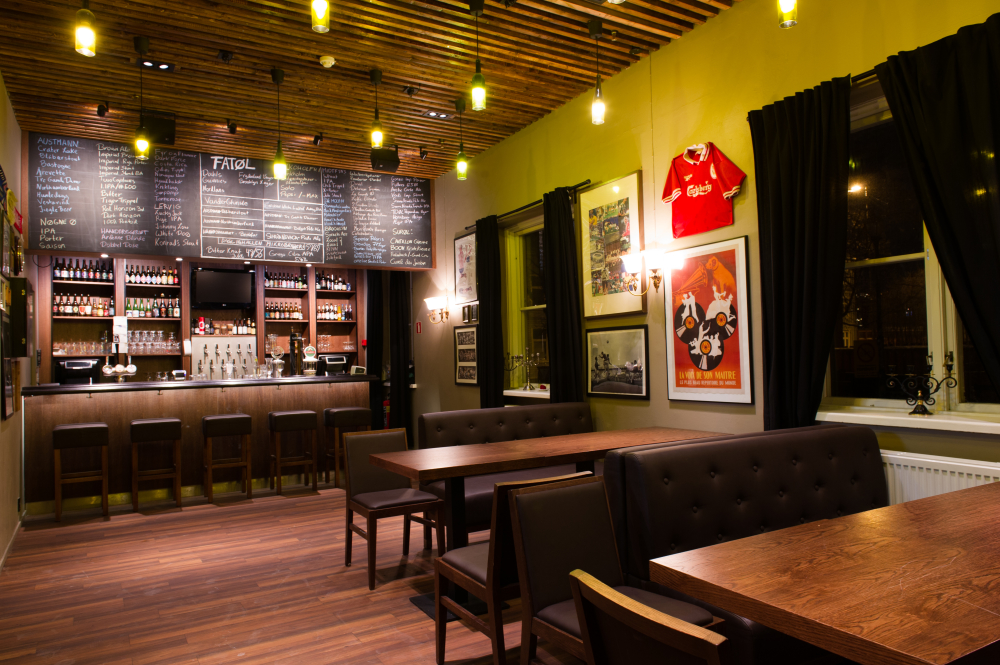 Photo: foto.samfundet.no
The place for quality beer to Trondheim's students!
Daglighallen Pub is Samfundet's brown pub and the place for good beer. It is located north of Daglighallen inside the back door to the Samfundet, hence the name. The pub is open every day throughout the semester and usually screens what you need of football games. This includes Premier League and Champions League and Premier League and the FA Cup on three screens in the venue. Daglighallen is also open outside the rest of the Samfundet venue's opening hours in order to show football matches of particular interest.
On the weekends Daglighallen cultivates the good pub culture: Good music, proud bartenders and good drinks from many different bottles and barrels. Daglighallen has one of the city's best beer selection. It is also possible to enjoy food and drinks from Edgar and Lyche in here.
The venue was converted into a pub in the summer of 1997 and was last renovated in 20013. Daglighallen features micro-beer from barrels, and will have many different styles of beers from a wide selection of breweries at all times. In addition to this we are also proud to sell beer brewed by our own brewers here at Samfundet. We also offer a wide selection of bottled beers, soft drinks and non-alcoholic beer. Stop by to find your favourite!
NB! When Daglighallen shows football matches outside the opening hours, the bar opens one hour before the game. See the bulletin board outside the premises or samfundet.no for a complete list of the games being broadcast.
Daglighallen Micro Brewery
The 5th September 2014 we were proud to launch our own brewery, called Daglighallen Micro Brewery. This was an important milestone for Samfundet. The brewery was established in connection with UKA-13.
Before there occurred home brewing on a limited scale. As sales increased in line with a wider interest, we decided to expand the brewery. We purchased equipment, refurbished a room and Dalighallen Microbrewery can now act as a professional brewery.